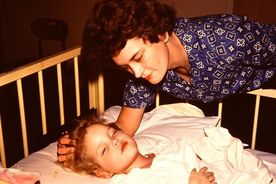 Welcome to my Website! Thank you for coming.


MY STORY

A wooden hospital bed? Yes, in 1965! I was born in 1960 and was pronounced to be a healthy baby girl. My parents were elated, as they had a healthy baby boy, but had lost another baby boy shortly after his birth just a year ago. Two weeks after they took me home, my great-aunt, who was a nurse, came to visit. As she unwrapped the blanket from around me, she could tell something was not right. In the meantime, my mom was telling her what an easy baby I was, as I slept most of the time and had to be awakened to eat. My aunt asked when my next doctor's appointment was. Proudly my mother told her my next check-up was not for another month. "Well, "my aunt replied, "maybe you should take her tomorrow. I think Dr. Joe should take a look at her." Perplexed my mother agreed. As she thought about it, sleeping so much and not eating well did warrant a trip to the doctor, just to make sure everything was okay.

Dr. Joe had been the doctor that delivered my second brother just a year prior. He was so burdened with the loss that announce me as a "healthy" baby girl had been . Now, he had to explain to my parents that there was something wrong with my heart. He was so broken-hearted to deliver the news. Since we lived in a small town in Michigan, he made arrangements for me to be seen by pediatric cardiologist in Detroit. At that appointment they confirmed there was a malformation of some sort. "She is too young and too small for surgery. Take her home and let her grow," they said.

By God's grace, I have lived to be 57 years old. The doctors told my parents, "She probably won't live to be a month old/" God had already laid out a plan for my life. God sent me a husband who is a faithful Christian and the greatest supporter that ever lived. Through the process of adoption, He dropped a beautiful daughter, who is now married to a wonderful man. We love the two of them greatly! (see picture below) I currently run a non-profit in Atlanta for teens and adults with CHD, volunteer for the Kids at Heart program at Children's Healthcare of Atlanta, speak to groups about CHD. I also wrote a book about growing up Congenital Heart, which you can review on the "Resources" page off this Websites. Yep! God has plans for me, alright! I have been so blessed!

May the Lord richly bless your family also!

You are not alone!

Please see our resource page for a list of helpful Websites!



---