CHD HOODIE - $42.00

Whether you have a CHD, or supporting someone else, these Hoodies are ideal. Lightweight enough to wear in the cool summer mornings and heavyweight enough to wear in the cool fall days. These hoodies make the ideal gift for you or someone else. Sizes are also available in youth up through Large. Also available in Long Sleeve T-Shirt for $30.00. Price includes shipping in the Continental United States.


---

T-SHIRT


HOODIE

14 ounce coffee mug - $12.00

This coffee mug comes in a beautiful cobalt blue. It is big enough to kick start your morning with your favorite brew or to end your night with your Sleepy Time tea.

Two sides are printed with a stitched heart with the words "It only makes me stronger." The other side gives you the sobering reminder that congenital heart defects are the #1 defect. This is also new for 2019. Once they're gone they're gone, there will be no re-order. Includes shipping in continental United States.

---

This 16 ounce tumbler is insulated to keep your cold drinks cold and your hot drinks hot.

It will not sweat like the typical drinking glass. Comes with straw. This tumbler is BPA free. This is the first new product for 2019 and is sure to sell out quickly. Priced to sell at $14.99 and includes shipping in the continental United States.

---

In a Heartbeat: A Baby's Heart, A Surgeon's Hands,
A Life of Miracles $12.50


is my story of growing up congenital heart. At the age of two weeks, I was diagnosed with a single ventricle. During my first surgery, the surgeon realized that my heart defect is a Double-Inlet, Left Ventricle, Pulmonary Atresia, and Chronic Cyanosis. Travel through my journey as God blesses me through trials and triumphs of three heart surgeries and four bouts of septal bacteria endocarditis and still living a normal life!

​


---

CHD Awareness Fleece Blanket

​$15.00

This cozy, polyester fleece blanket conveniently rolls up inside itself,
​secures with a Velcro® closure and has an attached handle for easy carry.
Perfect for those picnics in the park, outdoor event or cozy winter snuggle.
Dimensions: 53" H x 48" W.

​Makes a great pairing with the travel bag or as part of your automobile emergency kit.



​CLOSEOUT - Defect Tee only $15.00


Congenital Heart Defects Heart Tee

This new design is just in time for the fall. Your loved one may have one or several of the listed defects. What better way to raise awareness. This tee is offered in Ash Grey and is available in short or long sleeve and both youth and adult sizes. Please note - youth size is small, medium and large only. Sizes Limited. Please contact Kim at kim@kimsheartbeat prior to ordering.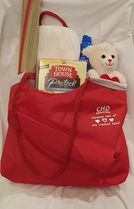 Large-capacity Tote $20

​ This sturdy, large-capacity tote bag will promote CHD Awareness wherever you go! With sturdy, over-the-shoulder straps make it easy to carry and the bamboo mat helps keep your belongings off the floor and/or sand. Whether you are going to the beach or going to a football game, this tote will help you carry all the things you need!
​

​ Items in the bag are not included.
---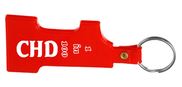 CHD Awareness Key Chain $2

Every 1 in 100 children are born with a Congenital Heart Defect. No matter what your age, this adorable, easy-to-grip key chain is a great way to assist you in spreading CHD Awareness wherever you go! What a great gift for grandparents, aunts and uncles to included in your child's heart journey!
---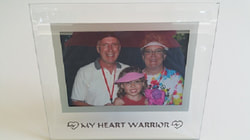 CLOSEOUT
"My Heart Warrior" Tempered Glass Picture Frame - $4.00
What a precious way to support your heart warrior! The support of seeing their picture with you or someone else means so much.
*Tempered Glass
* Accepts a 4" X 6" photograph


---
Educational "Invisible Defect" Car Magnet $3

Have you ever parked in a handicap space and have people comment on how "they'll let anyone have a tag", because your defect is invisible? This magnet, made of durable vinyl with UV resistant inks, will help people think about judging without knowing the circumstance. Another great CHD Awareness option!


---

​​
CHD Awareness Lanyard $3
---
3/4" X 8" Long
CLOSEOUT
​16 oz Bistro Coffee Mug $5.00

​Limited Supply!
Relax & give your heart and soul a lift with our new CHD Awareness/Bible verse 16oz ceramic Bistro coffee mug.
"My flesh and my heart may fail, but God is the strength of my heart and my portion forever.
Psalm 73.26"

(hand wash recommended)



---

CHD AWARENESS IDENTIFICATION TAG $4.00
Attaches to almost anything with a plastic loop-
diaper bags, car seats, purses, brief cases

Alert EMTs immediately with these quality I.D. tags which will provide pertinent information about your CHD, in case of emergency. As well as writing your name in the white box on the front, you can use the special self-adhesive backing to permanently seal specific CHD information to the back of the tag, so that pertinent information is immediately available. For example, name of defect, any unusual stats like low oxygen, unusual heartbeat, pacemaker-anything they might need to know immediately to best treat the CHD patient. (Listing the hospital where you want you or yourself transported to is really important. Not every hospital has CHD-trained staff!) They can be attached to almost anything!! They are perfect for diaper bags, book bags, backpacks, purses, brief cases, car seats, and much, much more!​
---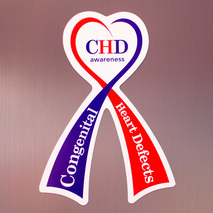 Congenital Heart Defect Awareness Magnet $3.00

Create awareness wherever you go with this CHD Magnet. With its bright blue and red and vivid white it attracts the attention of whoever walks by. It gives you the opportunity to speak up and educate any one who may walk by.

Created on quality vinyl it is fade resistant.

​
---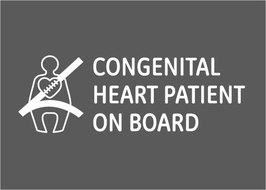 CLOSEOUT
​Congenital Heart Patient on Board Decal $1.00

ALERT EMTs in case of emergency with our brand new 5"X 7" Congenital Heart on Board" decals. Placed on your car window or the front window of your home, this decal alerts EMTs that a CHD is present and may require a special protocol. (These decals differ from the static clings, in that they will stick to outside surfaces, so they can be used on vehicles with tinted windows.)




---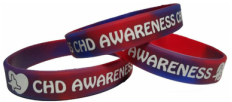 CHD Awareness Wristbands $2

support your CHDer and help raise CHD Awareness by sporting a red/blue swirl CHD Awareness wristband.


---